January 19, 2012.
Every survivor has their day. Today is mine.
Then and there, I knew I was in for the fight of my life.
Three years ago today, I was operated with heart disease. Every year since then, January 19 has served as a reminder to me that even though heart disease maybe leave my body, it will always be a part of my life.
Special thanks to my friends and family - without your help and love I couldn't be here now.
I will never forget the day when I had my heart operation. It changed my life, my mind and hope, it made me a better person. That's why I celebrate my surviving day. I want to remember myself that there is no too big problem or impossible thing. We can do if we want - and I already got a chance to make it happen.
Happy Ina-Surviving-Day and keep your heart alive.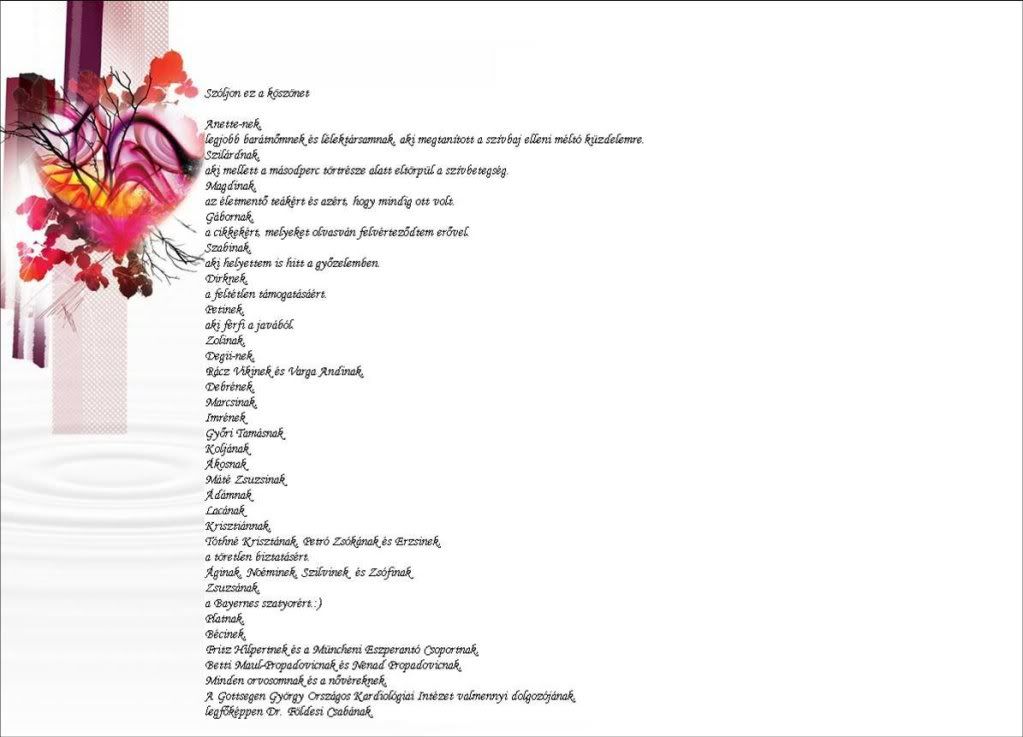 2012. január 19.
Minden túlélőnek megvan a maga napja. A mai az enyém. Akkor és azóta is, tudtam, harcban voltam az életemért.
Három évvel ezelőtt szívbetegséggel operáltak. Azóta minden évben, január 19-e emlékeztetőül szolgált számomra, hogy bár a szívbetegség talán elhagyja a testemet, ez mindig egy része lesz az életemnek.
Külön köszönet a barátaimnak és a családomnak - a Ti segítségetek és szeretetetek nélkül most nem lehetnék itt.
Soha nem fogom elfelejteni a napot, amikor a szívműtétem volt. Megváltoztatta az életemet, a gondolataimat és remélem, jobb emberré tett. Ezért ünneplem a túlélésem napját. Emlékeztetni akarom magamat, hogy nincs túl nagy probléma vagy lehetetlen dolog. Meg tudjuk tenni, ha akarjuk - és én már megkaptam az esélyt, hogy mindezt teljesítsem.
Boldog Ina-Túlélés-Napját, tartsátok a szíveiteket életben.
Tavalyi, részletesebb írás a szívbetegségemről és a rám gyakorolt fizikai és érzelmi hatásairól: itt.